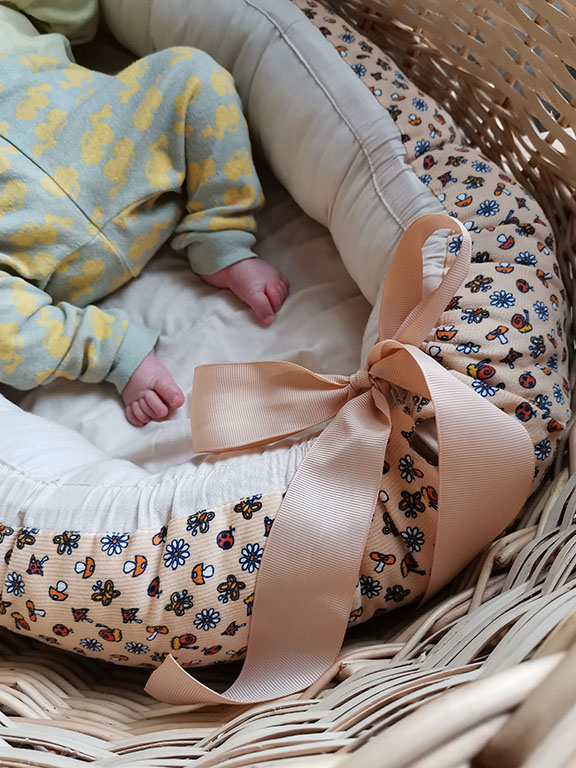 Here are baby essentials for the first 6 weeks. They were my most used items and were life savers! These don't include essentials for survival like clothing and food.
Graco swing – If you only get ONE thing on this list, I highly recommend investing in this! It worked really well to rock baby to sleep, and she loved it. Whenever I needed a break, this was my go to.
Bassinett for downstairs – We got this about 1 week after we arrived home with baby and realized we needed somewhere safe to keep her downstairs. We'd put her in this, and place her on the floor, dining, table or couch – wherever worked best for us. Simple but effective.
Bassinet for bedside – My husband picked this one, which we loved.
Floor play mat – I found that having one upstairs and one downstairs was most helpful. These are the two I have and they are both great: Lovevery and Skip Hop.
Cool Mist Humidifier – It was helpful to loosen up dry boogers lol.
Baby carrier – I have both ErgoBaby Omni Breeze and Baby Bjorn Mini. Both are great. However, for my young baby I prefer the Ergo Baby because it forces her to turn her head to the side so her airway is always protected; it also has better back support.
Baby monitor – I chose one that does not use Wi-fi and without an iPhone app. I did not want to have to worry about not being able to use it if my Wi-fi wasn't working for some reason. I did not want one with an iPhone app because I knew i'd be tempted to watch my baby every waking moment if I had access to the camera on my phone; i wanted to have some separation there and not be obsessive. I have this camera and monitor set and love it. The image quality is good. It's very easy to set up and use. It can Zoom in. Overall, it's a great product.
Baby monitor holder – For many baby monitors, you'll need something to hold them so you can position them over the area where your baby is. I bought this one, and it works really well. Make sure whatever you get is compatible with your camera/monitor.
Feeding pillow – I received a My Brest Friend nursing pillow from a friend and found it to be the best one for me.
Pillow for tummy time – While this Boppy Bare Nursing Pillow did not work for nursing, it was great for tummy time.
Avene Cicalfate Restorative Protective Cream – I love this moisturizer for my baby's dry skin. I use this brand myself and trust the quality of their products.
Paper plates and bowls – We have been using paper plates and bowls and it has been so helpful in reducing our cleaning load. Just something small that makes all the difference with everything else that comes with having a newborn.
Medela 3 in 1 nursing bra – I tried a number of bras and this one was the most comfortable and functional.
Caddy – If put all the essentials for diaper changes in this and carried it with me around the house.
Blanket – You'll need a solid blanket that isn't too bulky for doctor's appointments.
A few containers of formula – Just in case you run into trouble breastfeeding. I did and I am so glad I did my research and had 3 cans of my formula of choice on hand. I decided to use Bobbie, and my baby has done very well on it.
Mini Refrigerator – I recommend getting one for upstairs, or for whereever you sleep with baby overnight. Use it to store breastmilk and/or formula so you don't have to go downstairs (or leave the room) in the middle of the night. I got this one. I use it to store a few bottles of formula overnight, take one out and put it in the bottle warmer (see below) as needed.
Baby Breeza Sterilizer and Dryer – I used this at least once every day. It was great to throw things in to dry as needed especially. It helped me to save time and gave me peace of mind
Dr. Brown's Formula Mixing Pitcher – If your baby is formula fed, get this ASAP! Mix 24hrs worth of formula, store it in the fridge, and pour as need. You'll thank me later.
Baby Breeza Bottle Warmer – I keep this upstairs to warm up bottles that I pull from the fridge (see above).
Scale to measure formula – I use this scale to measure enough powder for 24hrs worth of formula for the pitcher (see above).
Pear or prune juice – For if you baby gets constipated. I had to use this a few times when I first switched to formula.
What baby essentials for the first 6 weeks would you add to this list?