For working out, lounging, working from home, when feeling fancier, best value, most comfortable
As someone who loves to experiment with different styles and fabrics, I know the importance of finding leggings that can be worn for any occasion and at a competitive price point. I wear leggings pretty much everywhere, including to work when I find one that fits just right.
That's why I was thrilled to discover Aritzia's leggings. They are my go-to brand and a one stop shop for me. Aritzia offers a wide range of styles, fabrics, and colors (which I really appreciate). Every style I have tried has fit really well and stood the test of time. They have really great sales of at least 50% off multiple times a year.
Below are some of my favorite styles from this must have brand. There's something for everyone.
High-Waisted
Aritzia's high-waisted leggings will keep you looking and feeling great. They sit at the natural waistline, providing ample coverage and support. Available in a range of fabrics, including cotton, wafflex, and glossy, they are perfect for any occasion, whether you're running errands or working out at the gym.
Boot Cut
These boot cut leggings are the perfect choice for a stylish and timeless look. They are designed to flatter your figure and provide a comfortable fit, making them a great choice for everyday wear.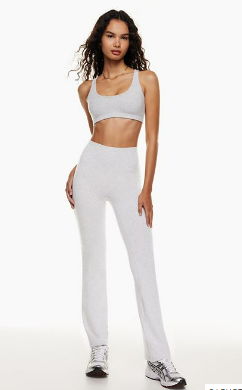 Cropped
Try these cropped leggings for a fun and trendy look. Designed to hit just above the ankle, they provide a unique and stylish look that can be paired with a variety of tops and shoes.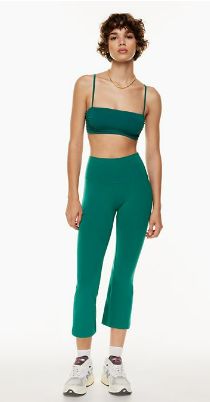 Flare Leggings
Flare leggings are a must-have in any wardrobe. Aritzia's version is no exception. Providing a comfortable and flattering fit, this style adds a touch of sophistication to any outfit.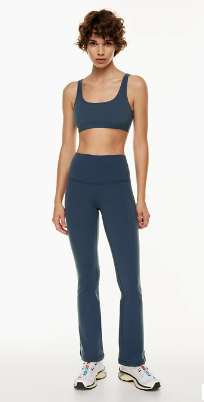 Straight Leggings
Get a few of these for a classic and timeless look.
Bell
For a unique and stylish look, these are the perfect choice.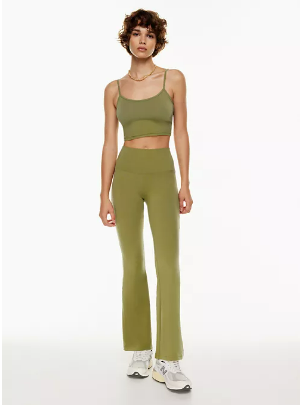 What are your go to leggings?